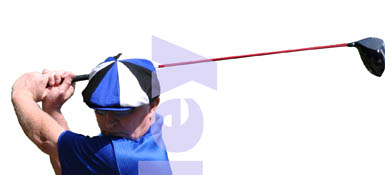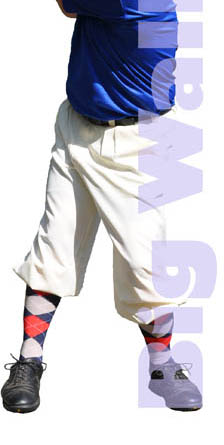 As of today my Winter handicap is 15ish. Not that it matters, but it gives some perspective. About 40 years ago I was ready to throw my driver in a fairway pond...my hair started smoking I was so mad, and why?... yea, shanked one. Now my score looked like 110 rather than 109. Big deal.

So I thought ( a rarity) ...why did I spend all that money on clubs, and $20 for the round only to drive myself to the brink of insanity? hmm....good question. At that point, life changed...for the better. If you can relate to this, here are some ways I've learned to enjoy the game.

3rd annual last trip to Thailand
Another great adventure
This year had later starts, and a bit less golfing. I think both changes were enjoyed by all, including myself who couldn't play more than 18 holes per day without yanking most shots into the jungle.
Well, the FORUM has been hacked, and not used for much else, so I'm taking it down for the time being.
In the meantime I'll try to post some key pictures from the trip...basically everyone found a hazard at some point, and someone else snapped a picture which I now have on file.
Since my back hurt so often on this trip I'm committed to planning just one more of these adventures next year. But I promise you, this one will be the last, so start savving you coconuts for next year's blowout triop.


It's not so much having to whck out of the rough, but taking advantage of the afternoon shade. Nardo stayed in the shade a lot as I recall.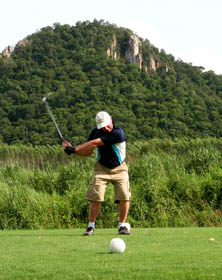 Typical shot 200yds straight then 100yds right.
My usual training routine leading up to Thailand golf is to visit our Par 3 course every weekday morning before work, then hit the driving range a couple of times each week, and finally, play a round or two of golf on the weekend. Unfortunately this summer I herniated a disc (L5) not once, but a second time after adding water to my fish tank, so most of my time has been spent glued to the sofa and almost none of it practicing. With an epidural tomorrow I'm hoping I can practice on the Par 3 over the weekend and next week, then try a very leisurely round on the last weekend before Thailand.
Right now Nardo, Young, Al, Mex, and myself will play the entire trip, with Wes Sr and Jr for Thu and Fri. It's time to get the game fine-tuned (poor Al is living under water this week) and find your zen spot. Kick back, relax, and think of the grueling days ahead....5am...roll over, sleep....8am...get up, stretch, maybe a quick jacuzzi or swim (just outside the door)...breakfast with friendly staff, cold fresh juice, stretch, realize life is good...get clubs, ride van to some fabulous golf course, watch action movie on van...play golf, maybe hit one or two good shots, joke with caddies, drink beer...dinner at any of a dozen great spots...drink beer....great night's sleep, or, great night!...wake up, start the process all over again.
Sometime next week I'll provide individual transportation costs, confirm all the tee times (actually cancel one for each course so we'll only have two), and give specific directions for getting through BKK and finding the van driver.
Your rooms are reserved. Your transportation is finalized. All the tee times are secured. Let's do it!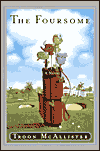 The Foursome
by Troon McAllister

Troon McAllister
The Foursome
The Green
Scratch
Barranca
Rick Reilly
Missing Links
Shanks for Nothing
J. Michael Veron
The Greatest Course That Never Was
the Greatest Player Who Never Lived
The Caddie
Bob Mitchell
Match Made In Heaven
Philip Reed
In Search of the Greatest Golf Swing
James Patterson & Peter de Jong
Miracle on the 17th Green
Golf fiction's finest hustler— Eddie Caminetti—returns in a laugh-out-loud novel featuring a foursome of upwardly mobile golf fanatics who get their just rewards. Mixing equal parts of suspense, hilarity, and raw human drama, Troon McAllister deftly shows readers what can happen when money, friendship, ambition, and greed converge explosively in a single round of golf.
______________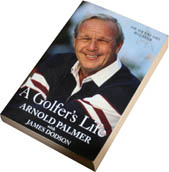 A Golfer's Life
by Arnold Palmer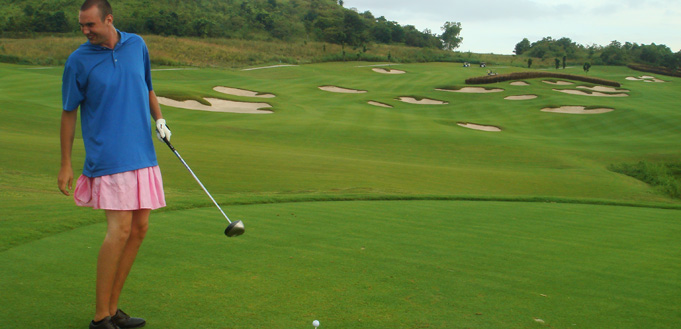 Kyle is 7' tall - a real star in Thailand...until this.